Pasta with sausage in a cheese sauce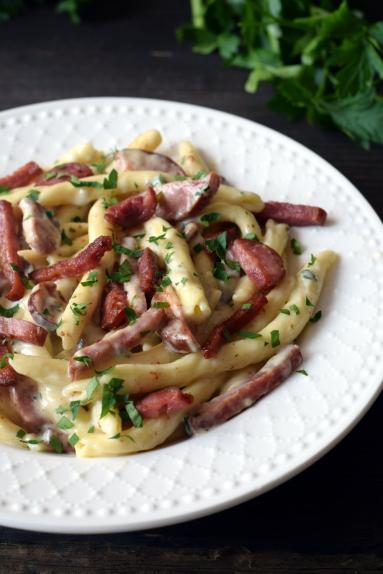 400 g of your favorite pasta
2-3 thin Silesian sausages (about 300 g)
about 300-400 g dry Krakow sausage
1 tablespoon of butter
1 tablespoon of flour
1-1.5 cups 30% cream
100 g gorgonzola
1 small clove of garlic
2 tbsp finely chopped parsley
Grated Parmesan cheese for sprinkling – optional
salt pepper
Cook the pasta al dente in salted water. Drain off.
We cut thin sausage into half slices. Cut the thick Krakow sausage into strips.
Warm up 1-2 tablespoons of oil in a large frying pan. We put in a thin sausage, fry for a few minutes, then add the Krakow sausage, fry for a while, until browning.
In a saucepan, melt 1 tablespoon of butter. Then add 1 tablespoon of flour and mix for about 2-3 minutes. After this time, pour the cream into a saucepan, mix all the time so that no lumps form. We add gorgonzola crushed into smaller parts and garlic squeezed by Prague – optional. We cook, stirring constantly, until the sauce thickens and the cheese dissolves. Season with a solid portion of pepper and salt. If the sauce comes out too thick, pour a small amount of milk or cream and mix again.
The cooked pasta is combined with fried sausage and béchamel cheese sauce. Serve sprinkled with parsley and grated Parmesan cheese (optional).