Salad with orange slices and lamb's lettuce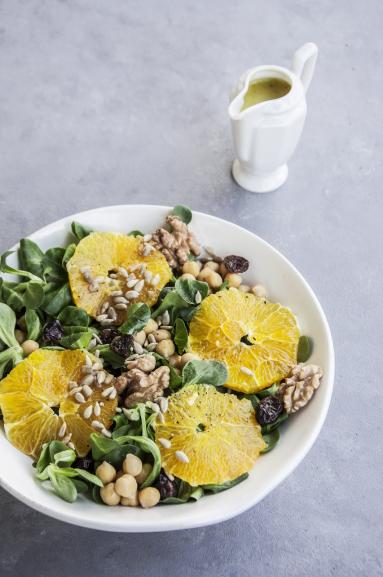 per serving:
2 handfuls of lamb's lettuce
orange
a few italian nuts
some chickpeas
spoon of cranberry
spoon of sunflower seeds
Peel the oranges, cut into slices (4 pieces, squeeze the rest into a sauce bowl). Brown nuts and sunflower seeds.
Spread on a plate, add the rest of the ingredients. Pour the vinaigrette sauce just before consumption.
Vinaigrette sauce
half an orange juice a teaspoon of Dijon mustard
a few tablespoons of oil
pepper
Squeeze the orange juice into a bowl, add mustard, take a spiral whisk and start stirring pouring olive oil. When combined, the ingredients should be smooth and velvety. Season with pepper.