Chicken Caesar Salad (fit version)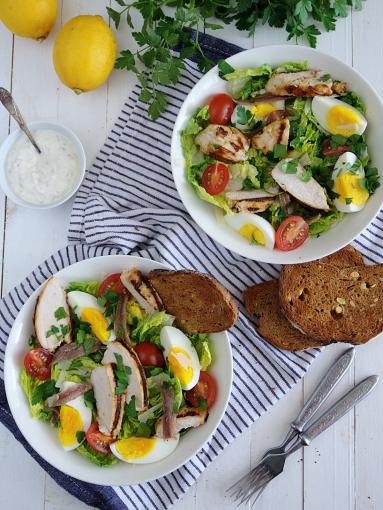 Ingredients for 2 people: 200-220 g of chicken breast fillets
2 tbsp lemon juice
rapeseed oil
salt and pepper
1 clove of garlic
20 g anchovy fillets
15 g Parmesan cheese plus chips for sprinkling
75 g of natural yogurt
1 teaspoon mustard
2 hard-boiled eggs
parsley
6-8 cherry tomatoes
1 small romaine lettuce
to serve 2-3 slices of whole grain bread, toasted
Wash and dry the meat. Mix a tablespoon of lemon juice with a teaspoon of oil. Add salt, pepper and a clove of garlic squeezed through the press. Mix the meat with the mixture. Heat the grill pan, brush it with oil. Arrange the pieces of meat in a pan. Fry for a few minutes on each side. Put on a plate. Prepare a lettuce sauce. Finely chop half the anchovies. Mix with Parmesan cheese, yogurt, mustard and the remaining lemon juice. Season to taste. Put the sauce into a bowl. Peel the eggs, cut into quarters. Chop the parsley. Cut tomatoes into halves. Lettuce tear into pieces, spread into plates together with tomatoes and eggs. Sprinkle with parsley. Make anchovy fillets. Grilled chicken cut into pieces, put on lettuce. Optionally, sprinkle with Parmesan chips. Serve the salad with croutons and prepared sauce.