Pasta with chicken, spinach and gorgonzola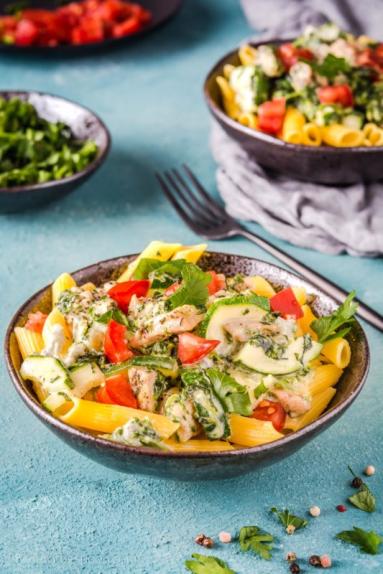 Quantity: 2 servings
Ingredients:
1 chicken breast
100 g fresh or frozen spinach
80 g gorgonzola
50 ml 18% cream
2 garlic cloves, chopped
½ zucchini, cut into half-thalers
salt, pepper, Herbes de Provence
2 small tomatoes, diced or 8 cherry tomatoes
parsley
favorite pasta (can be corn or other gluten-free)
Preparation:
Dice the chicken, season with salt, pepper and Herbes de Provence. Fry in oil, stirring for about 3 minutes. We add spinach, pour a little water and cook for about 5 minutes. Put it back into the bowl. In the same pan, warm up the oil and fry garlic and zucchini for 2 minutes. We add cheese, cream and spices. We cook until the cheese dissolves, add chicken and spinach and cook for 1-2 minutes.
Mix the sauce with pasta and tomatoes. Serve sprinkled with parsley.
Bon Appetit!