Pineapple CAKE (without baking)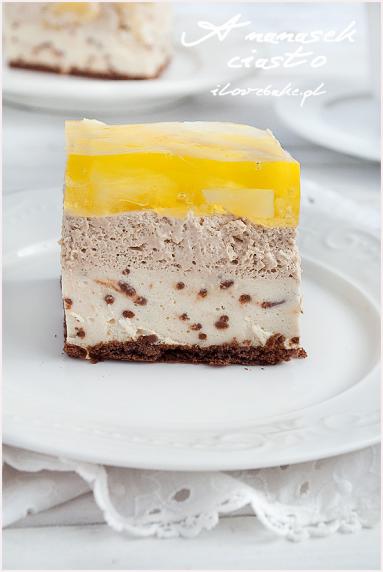 INGREDIENTS FOR LOSS CREAM:
1 kg of cottage cheese, triple ground
1 cup powdered sugar
1 teaspoon vanilla sugar
200 g butter or margarine, room temperature
3 tablespoons of gelatin
2/3 cup hot water
100 g dark chocolate or chocolate sprinkles
INGREDIENTS FOR CAPPUCCINO CREAM:
500 ml 30% cream
3 tablespoons powdered sugar
4 tablespoons of chocolate cappuccino, powder
2 1/2 teaspoons of gelatin
1/3 cup hot water
ADDITIONALLY:
approx. 200 g cocoa biscuits
2 lemon jellies
500 ml hot water
1 can of pineapple in syrup
Form with dimensions 24 × 24 cm lay out with biscuits.
We dissolve gelatin in hot water and let it cool. Grate the chocolate on a grater or use chocolate sprinkles. Soft butter grated together with sifted powdered sugar and vanilla sugar on so-called down. Then add a tablespoon of ground curd. At the end of mixing, slowly pour the cooled gelatin and add chocolate. Put the mass on biscuits and put in the fridge until it solidifies.
We dissolve gelatin in hot water and cool it. Whip cream to a stiff mass, at the end of whipping add sifted powdered sugar, cappuccino powder and cooled gelatin. We put on cheese mass and put in the fridge.
We dissolve jellies in hot water and syrup from drained pineapple. Leave to cool, then put in the fridge until it starts to solidify. Cut pineapple into small pieces and put on dough. We lay the solidifying jelly spoon by spoon on top of the cake. We put in the fridge until it is completely cut.