SNOW QUEEN CAKE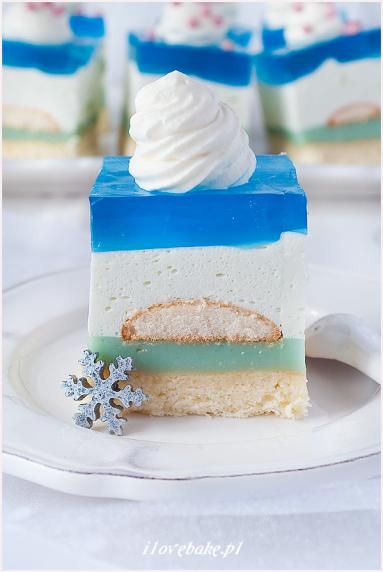 INGREDIENTS FOR BISCOPT:
4 eggs
3/4 cup cake flour
1 tablespoon of potato flour
1/2 cup sugar
pinch of salt
INGREDIENTS FOR BLUE CREAM:
500 ml milk
1 vanilla pudding, powder
2 tbsp sugar
1 blue jelly (for me blueberry and blackberry)
CREAM CREAM:
1 gooseberry / lemon jelly
200 ml water, hot
400 ml 30% cream
3 tablespoons powdered sugar
TOP INGREDIENTS:
2 blue jellies (blueberry and blackberry for me)
750 ml of water
ADDITIONALLY:
packet of round biscuits
200 ml fondant + 1 tablespoon powdered milk
Proteins separate from yolks and mix with a pinch of salt to stiff foam. At the end, add sugar slowly and mix for another 2-3 minutes. Then add one yolk and mix at medium speed only to combine. Flour is sifted directly into the mass in several small portions. After adding, gently mix a large wooden spoon or spatula, for example. Form with dimensions 24 × 24 cm, lightly butter and lined with baking paper. We put the dough into the mold and bake at 170 C for about 20-25 minutes to the so-called dry stick. Immediately after removing the hot cake throw on a protected floor from a height of 30 cm. This way the sponge cake will not fall. We leave it to cool.
We dissolve pudding powder in 150 ml milk. We cook the rest of the milk with sugar. We slowly pour the milk with pudding and cook until the mass thickens. We combine with heat and add jelly (powder), mix until dissolved. We wrap the foil so that the sheepskin does not form and leave it to cool. We put out on a sponge cake and put in the fridge. We put the biscuits next to each other on the solidifying mass and put them back to the total concentration.
We dissolve gooseberry jelly in hot water, let it cool completely. Whip cream to a stiff mass, at the end add sifted powdered sugar and slowly pour in cooled and slightly solidifying jelly. We lay out on biscuits and put back in the fridge until completely cut.
We dissolve blueberry jelly in hot water. Leave to cool, then put in the fridge. We put the jelly on the top of the cake quite strong. We put in the fridge until it solidifies. The cake should be in the fridge for a few hours at least. Before serving, whisk the cream to a stiff mass. At the end, add the milk powder and mix for a while. We squeeze decorative shapes on each piece with confectionery sprouts.