SPRING CARROT CAKE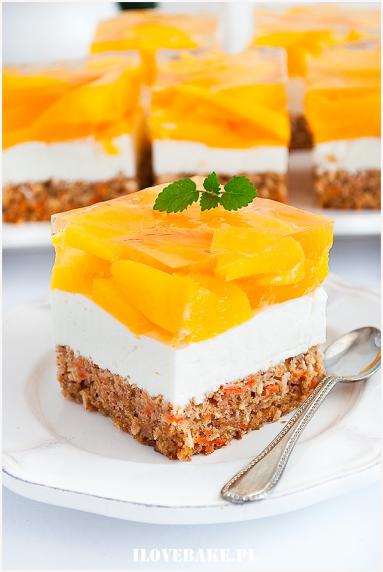 INGREDIENTS FOR CARROT CAKE:
260 g of cake flour
1 teaspoon soda
1/2 teaspoon baking powder
1 teaspoon cinnamon
3 eggs
200 g of sugar, e.g. brown
200 ml oil, e.g. rapeseed or sunflower oil
1/2 grated apple
250 g grated carrots
60 g coconut
60 g chopped nuts, e.g. Italian
pinch of salt
INGREDIENTS FOR CHEESE CREAM:
500 g cottage cheese, ground three times or from a bucket
200 ml 30% cream
4-5 tablespoons of powdered sugar
2 teaspoons of gelatin
1/4 cup hot water
ADDITIONALLY:
2 x packaging Dr. Oetker jelly crystal
700 ml hot water
1 large can of peaches or apricots
All ingredients for the dough should be at room temperature.
Form with dimensions 24 × 24 we lay out with baking paper. Sift flour with powder, soda and cinnamon. Mix eggs with sugar until a fluffy mass. Then slowly pour the oil in a small stream. Finally, gently combine with a large spoon and grated carrots with a large grater, chips, apple and nuts. We add sifted ingredients and salt and mix only to combine. We put the finished dough on a baking tray and bake at 170 C for about 30-40 min. to the so-called dry stick. We take out the finished ones, cool them and level them slightly by cutting the top.
We dissolve gelatin in hot water and let it cool. Mix the cream into a thick cream. The cheese is mixed with sifted powdered sugar. Then gently combine with cream and a small stream pour gelatin. We put the dough on top.
We dissolve jellies in hot water and leave to light concentration. Cut the peaches into thick slices and put them on the dough. We pour out the solidifying jelly and put in the fridge for a few hours.