CAKE DELICATION WITH APPLES AND CHEESE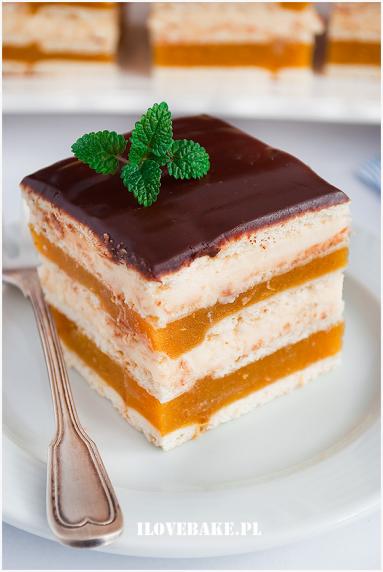 INGREDIENTS LAYER INGREDIENTS:
2 jars of 0.8 l apple mousse
2 lemon jellies
1/2 teaspoon cinnamon
INGREDIENTS FOR CHEESE MASS:
800 g semi-skimmed cottage cheese three times ground or from a bucket
4 eggs
3/4 cup sugar
1 teaspoon vanilla sugar
2 x 40 g vanilla pudding, powder
2 tablespoons of butter
INGREDIENTS FOR CHOCOLATE GLAZE:
80 g dark chocolate
80 ml 30% cream cream
ADDITIONALLY:
3 boxes of butter biscuits
Form with dimensions 24 × 24 cm or similar we lay out with baking paper.
We put a layer of biscuits on the bottom.
Transfer apple mousse with cinnamon into a saucepan and heat to boil. We remove from heat and pour jellies, mix until dissolved. Let stand until the mousse begins to solidify.
Put cottage cheese into a saucepan, add eggs, sugars and mix thoroughly. Then add sifted pudding powder and mix again. Heat it all the time, stirring until it boils. Finally, add butter and mix until dissolved. We leave it for a slight cool.
We put half the solidifying mousse into biscuits, then again a layer of biscuits and half the cheese mass. We repeat the same steps. We wrap it in foil and put it in the fridge for the whole night.
Before serving, warm the fondant strongly and add pieces of chocolate. Mix until dissolved and pour into the dough. We leave for 15 min. to concentration.