WALNUT WITH A POP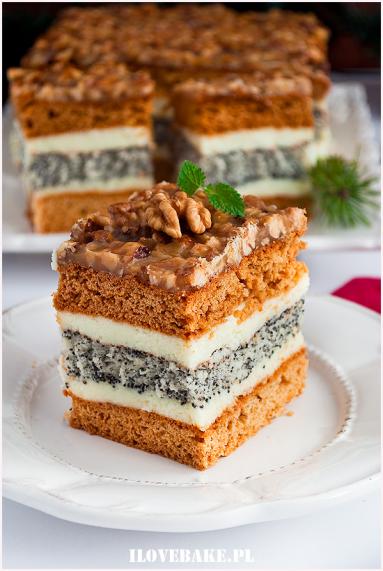 INGREDIENTS FOR HONEY CAKE:
3 cups cake flour
1 1/2 teaspoon baking soda
150 g butter or margarine
2/3 cup sugar
3 tablespoons of honey
2 eggs
INGREDIENTS FOR POPPY CAKE:
4 eggs
2/3 cup sugar
2/3 cup cake flour
2 teaspoons potato flour
1/2 cup poppy seeds, grains
pinch of salt
INGREDIENTS FOR CONSTRUCTION CREAM:
600 ml of milk
2 x cream pudding, powder
5 tablespoons of sugar
1 teaspoon of vanilla extract or essence
200 g butter, room temperature
INGREDIENTS FOR THE NUT LAYER:
200 g walnuts, chopped
75 g butter
5 tablespoons of sugar
2 tbsp honey
* 1 cup of 250 ml
Put a 24 × 24 cm mold or similar with baking paper.
Sift flour with soda. Melt the butter together with honey and sugar, leave it to cool slightly. Eggs are lightly beaten and added to dry ingredients. Then pour the honey mass and mix until the dough begins to be uniform. We divide it in half and stick out the bottom of the mold. The dough can be slightly sticky so you can slightly moisten your hands with water. Finally, you can level the dough by running over it, e.g. with a glass. Bake at 175 C for about 10-15 minutes until browning. We bake the next part in the same way.
Sift the flour into a bowl and mix with poppy seeds. Proteins are separated from yolks and mixed with a pinch of salt into stiff foam. Then slowly add sugar and one egg yolk. We add dry ingredients in a few small portions and combine gently. We put into a form lined with baking paper. We bake at 175 C for about 25-30 minutes to the so-called dry stick. We pull it out and leave it to cool.
We heat 600 ml of milk together with sugar and vanilla. We dissolve the sieved pudding powder in the remaining milk. We add to the hot milk and cook all the time stirring until the pudding is thick. Ready to wrap with foil and leave to cool completely. Mix the soft butter for a while, then add the cooled pudding after a spoon.
In the form, we put one layer of honey cake, we put half the cream. Then poppy seed cake, cream and honey top.
In a saucepan, melt the butter together with sugar and honey. We add nuts and cook on low heat for about 5 minutes. We lay out on a honey counter. After cooling down, put the dough in the fridge overnight. Cut with a sharp knife and teeth.