CARROT CAKE WITH MASCARPONE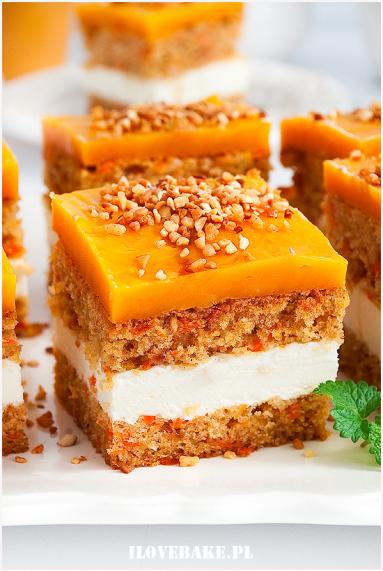 CAKE INGREDIENTS:
260 g of cake flour
1 teaspoon soda
1/2 teaspoon baking powder
1 teaspoon cinnamon
3 eggs
200 g of sugar, e.g. brown
200 ml oil, e.g. rapeseed or sunflower oil
1/2 grated apple
250 g grated carrots
60 g coconut
60 g chopped nuts, e.g. Italian
pinch of salt
MASCARPONE CREAM INGREDIENTS:
400 ml 30% cream
250 g mascarpone cheese
3 tablespoons powdered sugar
INGREDIENTS FOR CARROT LAYER:
500 ml carrot juice, e.g. with peach
1/2 cup water
2 x 40 g vanilla pudding, powder
3 tbsp brown sugar
100 g butter or margarine
ADDITIONALLY:
finely chopped nuts or a croquette to empty the top
Form with dimensions 24 × 24 we lay out with baking paper. Sift flour with powder, soda and cinnamon. Mix eggs with sugar until a fluffy mass. Then slowly pour the oil in a small stream. Finally, gently combine with a large spoon and grated carrots with a large grater, chips, apple and nuts. We add sifted ingredients and salt and mix only to combine. We put the finished dough on a baking tray and bake at 170 C for about 30-40 min. to the so-called dry stick. We take it out, cool it and cut it into two parts. If the top is too high, you can cut it a bit.
Mix the cream with mascarpone to thick cream. Finally, add sifted powdered sugar and mix for a while. We lay out the carrot cake on one top and cover with the other.
We heat carrot juice together with sugar and butter. Dissolve pudding powder in water and add to the juice. Mix all the time until the mass is thick. Lightly cool and put the carrot dough on top. We even out and after cooling completely put in the fridge for a few hours or all night. Sprinkle the top with chopped nuts or a crochet.